KEEP YOUR CUSTOMERS & TENANTS HAPPY AND SNOW FREE
Designed to keep your commercial property free of snow and ice throughout the entire winter, Donewell Property Services provides Edmonton's most reliable commercial snow removal services. Our flat-rate commercial contracts include the full maintenance required to ensure safe, unimpeded access to your premises, all winter long. We are equipped and experienced to take care of even the most demanding commercial properties, such as retail plazas and malls, office and professional buildings, industrial facilities, shipping and receiving hubs, and educational and religious institutions. With a never ending focus on service quality, prompt dependability, and client satisfaction, Donewell's dedication to the snow removal trade is unrivaled. Rest assured that your commercial property is in the best hands this season, get your free quote today.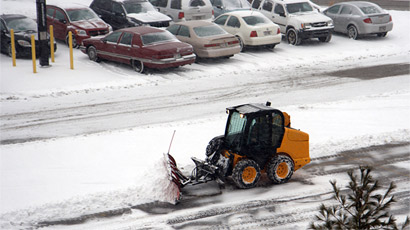 GUARANTEED UNLIMITED VISITS
Our Service Packages are fully unlimited, and include service of every snowfall over one centimeter (1 CM), as well as all freezing events such as freezing rain, ice storms, flash freezing, sleet and slush. Eco-friendly deicer applications are included in the flat-rate and are applied when visible areas of ice buildup are present. Every winter weather event is guaranteed to receive reliable, timely service, no matter how much, how hard, or how often it snows.
FLAT RATE SEASONAL PRICING
Our Service Packages offer flat-rate pricing, which will cover your property for the entire winter. There are no hidden costs, and no extra visit charges, we will visit and tend to a property as many times as needed in order to guarantee a snow and ice free surface. Your flat-rate seasonal cost is agreed upon in writing, and payment may be split up into several equal installments, payable over the course of your contract. The price agreed upon at the beginning of the season is locked in for the entire duration of your contract, and will never go up, regardless of how much snow we get.
MULTIPLE VISITS PER STORM
Multiple visits, staggered as necessary during the day and night to maintain optimal site conditions in accordance with weather at the time. We run crew's day and night and will work tirelessly to ensure your property gets the attention it needs in the extreme conditions that Alberta storms can bring.
THE "DONEWELL" PROMISE
With over a decade of experience taking care of Edmonton's premiere residential properties, Donewell has established relationships with many of the city's leading property managers, homeowners, and landlords. Quality service is at the very heart of our success. We understand the paramount importance of winter safety for your residential property. We fill the need for a reliable, prompt and consistent snow and ice maintenance service, delivered every time with absolutely no excuses. You can't afford to let your home get buried in snow and ice again. Guarantee yourself some peace of mind this winter, join our roster of satisfied clients today and give us a call or forward us an email and we would be happy to assist in the needs of your property in any way that we can.